Open Farm Day
Santuario Sisterfarm is open to the public for visits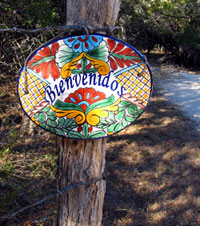 one day each month (see schedule below). Group tours and workshops may be arranged at other times by appointment only.
Tours
On Open Farm Days, tours will be given at
11:00 am. On the tour, you will see and learn about:
Organic growing methods
Composting and worm bins
Water conservation
Renewable energy/conservation
Green building
Non-toxic/biodegradable household products
Vegetable and herb plants or produce, plus eggs from Sisterfarm's free ranging and pampered chickens are (sometimes) available for purchase.
Tour Fee: $10/person; $5/child. Pack a picnic lunch, if you wish to eat by the creek or one of our small ponds after the tour. Wear comfortable shoes.
Schedule a tour
Call 830.537.4327 or to reserve a space and get directions.
Next Tours
(11 am to Noon)
Saturday, April 16
Saturday, May 14